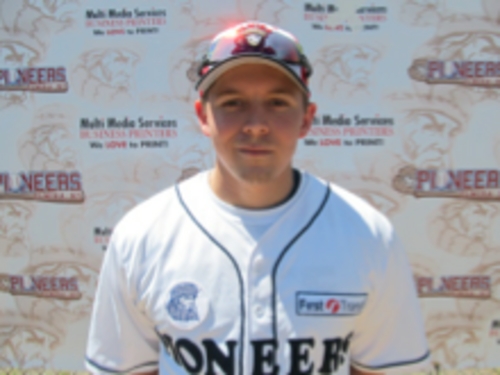 ELMIRA, N.Y. – Just over two months after being named the only unanimous choice to the PGCBL All-Star Team, the Elmira Pioneers announced today that they have resigned first baseman Christian Santisteban for the 2015 season.
"Christian reached out to the coaching staff and expressed his desire to return to the team in 2015. We were eager to welcome him back and I am sure that the Elmira Pioneers fans will be thrilled to see him at Dunn Field again," said Pioneers head coach Matt Burch. "Christian is an accomplished player and will be a significant contributor to what is expected to be a potent offensive club."
Santisteban, who is in his junior year at Manhattan College, was potent on offense during the summer of 2014, hitting .305 and batting in a team leading 32 runs for the Pioneers. The Miami, Fla., native also topped Elmira in the categories of slugging percentage and on base percentage, finishing with an OPS of .904.
His success and development as a player, under the Pioneers coaching staff were among a few factors for his return next year, but Santisteban is quick to point out another major key in his decision making process. "The stadium is electric. Hearing the roar of the crowd is one of the best experiences I've ever felt. The fan base is the best that I've ever been around and I can't wait to experience it again."
Elmira cheered on the first baseman as he was named first team All-PGCBL this past summer, and Santisteban is already counting down the days until he can take the diamond at Dunn Field again. "Elmira is a great town that eats, sleeps, and breathes baseball. You're treated like a big leaguer and it's a great time showing up and playing every day."
To learn more about becoming a season ticket holder or to renew your seats for the 2015 season, call the Pioneers front office at 607-734-2690. Stay up-to-date with player signings and more exciting news about the 2015 season atwww.elmirapioneers.com.