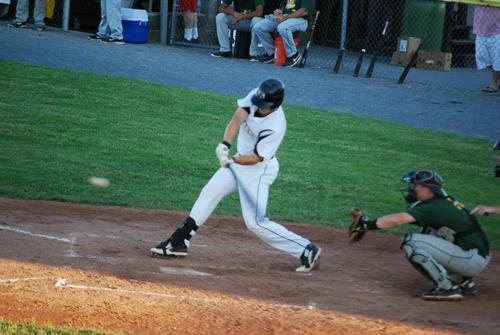 Matt Diorio said he wasn't trying to do anything special, just trying to get on base for the guys behind him. What "wasn't trying to do anything special" turned into the second cycle in PGCBL history.
It started with a two-run home run in the first inning. Check off the home run. It continued with arguably the most difficult piece, a triple in the third, a ball that nearly went over the Colburn Park center field fence. Check off the triple. The fifth inning provided the "easy one." Check off the single.
Diorio would have four innings to get the sacred double and be enshrined in PGCBL history forever. His next at-bat came in the sixth. With two away and Robbie Alessandrine at second and Santino Alteri at first, Diorio hit a double to right field, driving in Alessandrine and Alteri and finishing off the cycle. Checklist complete.
Diorio advanced to third following a Joe Ogren single and was met by Watertown coach Paul Alteri, who was there to congratulate the Staten Island native.
"I knew I was a double short and after I got the hit it didn't register right away until I got to third when coach shook my hand and said congratulations, then it hit me and it felt real good," Diorio said.
Diorio's cycle is the second in PGCBL history, the other coming from Larry Balkwill, a Watertown catcher during the 2011 season. Balkwill achieved the feat on June 30, 2011 against the Glens Falls Golden Eagles. The similarities between Balkwill's cycle and Diorio's are quite remarkable.
Balkwill homered in his first at-bat. Diorio did the same. The next step for Balkwill was the triple. Diorio's second piece was a three-bagger. The Siena product singled to be a double away. The Central Florida product singled to complete the third step of the feat. To complete the cycle, Balkwill drove an RBI double to right field. Diorio did the same. Same order, same result.
While it may have been the second cycle in PGCBL history, it was the first of Diorio's baseball career and one that he said he will remember forever.
"It's an incredible honor to be a part of history and it's something that as a kid I would always dream about and it will be something that I will remember forever," Diorio said.
With more than a month left in the season, the catcher said he will not settle for just one achievement, but work hard to accumulate more.
Said Diorio: "This game makes me want to work harder and to continue to get better as a player moving forward through the rest of the season with the Rams and into next season at UCF."