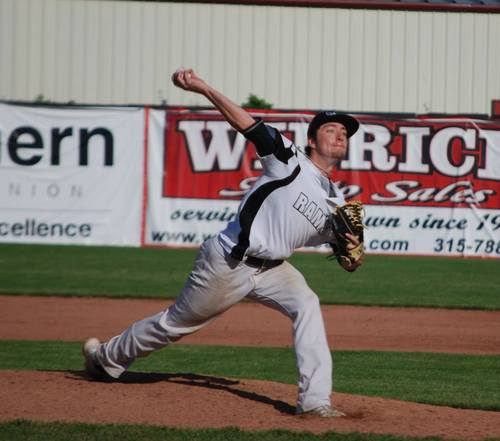 Pitcher of the Week (June 19 - June 25): Dalton D'Spain (Watertown)
Player of the Week (June 19 - June 25): John Razzino (Amsterdam)
In the third set of weekly awards for the 2014 PGCBL season, Dalton D'Spain of the Watertown Rams has received the Pitcher of the Week award and John Razzino of the Amsterdam Mohawks has won the Player of the Week award.
Dalton D'Spain tossed the first complete-game shutout in the PGCBL this season on June 20 against Elmira. D'Spain allowed just one hit to the Pioneers and faced two batters more than the minimum of 27. The shutout was the first nine-inning complete-game shutout in the PGCBL since Newark Pilot starter Dan Gautieri shutout Watertown on July 21, 2013.
D'Spain, from Texas A&M-Corpus Christi, moved to 1-1 on the year for the Rams and lowered his ERA to 3.05. At Texas &M-Corpus Christi this past season, D'Spain went 1-0 in 21 appearances with an ERA of 3.73.
The Amsterdam Mohawks are currently on a ten-game winning streak and their offense, led by John Razzino, is one of the main reasons why. For the week of June 19-June 25, Razzino went 10-for-21 at the plate with two home runs and 10 RBIs, earning him the Player of the Week award. Razzino's best game came on June 21 when he went 4-for-4 with 5 RBIs and a home run in Amsterdam's 13-2 win over the Adirondack Trail Blazers.

Razzino, from Franklin Pierce, is now hitting .395 on the year with a team-leading 14 RBIs. He has been successful in six of seven stolen base attempts and his triple slash-line now reads .395/.500/.605. At Franklin Pierce this past season, Razzino hit .264 with four home runs and an on-base percentage of .335.
For all the latest news, scores and updates, follow the PGCBL on Twitter, @PGCBLbaseball.​
|
Back to index...