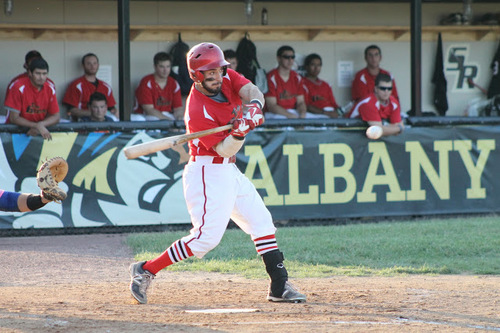 Pitcher of the Week (July 3- July 9) - turns out to be co-winners: Rollie Lacy (Adirondack) and Michael Springer (Newark)
Player of the Week (July 3-July 9)- Alex Simone (Adirondack)
In the fifth set of weekly awards for the 2014 PGCBL season, Rollie Lacy and Michael Springer have been named co-winners of the Pitcher of the Week award while Alex Simone takes home Player of the Week honors.
Rollie Lacy tossed a seven-inning complete game shutout in his July 4 start against the Newark Pilots as the Adirondack Trail Blazers won 2-0. Lacy allowed six hits and struck out five Pilot batters. The Creighton product is now 2-1 on the season and has a 2.37 ERA. He was named an all-star for the West Division on Wednesday. Lacy did not appear in a game for the Jayhawks this season.
Michael Springer threw seven and two-thirds scoreless innings and picked up the win in Newark's 12-0 win over the Mohawk Valley DiamondDawgs on July 5. Springer allowed just two hits and struck out five against the DiamondDawgs. The right-hander from BYU is now 3-0 with a 2.90 ERA for the Pilots. Opponents are hitting just .228 off him. In 13 appearances for BYU this year, Springer went 0-3 with an 8.58 ERA. He had four starts with all other nine appearances coming in relief.
Alex Simone has been named PGCBL Player of the Week for the week of July 3-July 9 after going 8-for-12 with five RBIs and a home run. Simone also hit three doubles during the week, including one in arguably his best game of the seven days on July 6. Against the Mohawk Valley DiamondDawgs, Simone went 2-for-4 with a home run and a double. The LaRoche product is now hitting .367 for coach Matt Leahy with an on-base percentage of .392. In 27 games at LaRoche this year, Simone hit .307 with 13 RBIs and seven doubles. He also scored 13 runs and had an on-base percentage of .371.
For all the latest news, scores and updates, follow the PGCBL on Twitter, @PGCBLbaseball.