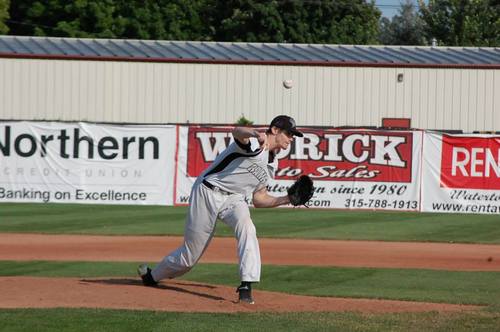 Pitcher of the Week (July 17-July 23) – Mitch Sewald (Watertown)
Player of the Week (July 17-July 23)- Colin Hawk (Mohawk Valley)
In the seventh set of weekly awards for the 2014 PGCBL season, Mitch Sewald of Watertown has been named Pitcher of the Week while Colin Hawk of Mohawk Valley has taken home Player of the Week honors.
Mitch Sewald tossed eight scoreless innings in his July 18 start against the Adirondack Trail Blazers as the Watertown Rams won 1-0. Sewald allowed just two hits and struck out eight Trail Blazer batters. The LSU product is now 4-4 on the season and has a 2.89 ERA. He leads the league in strikeouts with 49.
Colin Hawk has been named PGCBL Player of the Week for the week of July 17-July 23 after going 10-for-24 with five runs scored. The Cincinnati product also hit a home run and a double during the week. Hawk is now hitting .328 for coach Blake Nation with an on-base percentage of .365. Hawk has a .453 SLG and has 21 RBIs on the summer. At Cincinnati this year, the infielder appeared in 40 games and stole four bases with a fielding percentage of .968.
For all the latest news, scores and updates, follow the PGCBL on Twitter, @PGCBLbaseball.