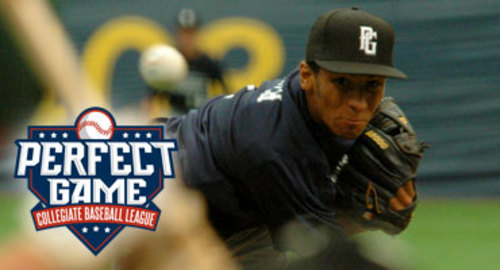 With the summer coming to a close and students beginning to return to their schools, the PGCBL season is starting to wrap up. However, the excitement is only just beginning for six teams who are looking to make a postseason push to become PGCBL Champions.

The six team playoff includes the top three teams from both the East and West Divisions. The first round of playoffs will take place on July 31 and will pit the second and third seeds against one another in a win or go home scenario.

Following the first round of playoffs, the winner will play the top seed of the division in a best-of-three series that will be played from August 1-3.

The Championship Series will take place from August 5-7 and will pit the winner of the East Division against the winner of the West Division. The coaches weighed in on the playoffs about what they are doing to prepare their teams and what they expect to happen once playoffs begin.

Two-time defending PGCBL champion Amsterdam won the East Division regular season title and will be looking to bring home another championship. But every team is different from the ones in previous years. There are new players with few returnees, so the playoff environment is something new for some of this year's Mohawks players. But Amsterdam Coach Keith Griffin said this year's team is trying to leave its own mark.

"I know what to expect," he said. "But we only have three players back from last year's team. So every year is a different team and this team is trying to make its own mark and hopefully they can."

As far as what the Mohawks need to do in order to continue their run of postseason success, Coach Griffin kept it short and simple, even with only three players returning from last year's championship team.

"We are excited about it, we finish our last regular season game tonight," Griffin added. "We need to get through these nine innings without getting anybody hurt and turn the page to get ready to play on Friday."

Leading the Mohawks is John Razzino, a junior outfielder from Franklin Pierce College. Razzino is second on the Mohawks roster with a .366 average including four home runs, 31 RBI, and 48 hits. He leads the team with 21 stolen bases.

On the mound, Taylor Blatch has started getting hot for the Mohawks at the end of the season. The Florida State freshman is coming off a no-hitter against the Utica Brewers which marked only the second no-hitter in PGCBL history.

The Mohawks will await their opponent, which will either be the Mohawk Valley DiamondDawgs or the Albany Dutchmen. This matchup will be a rematch from the first round a season ago which saw the Dutchmen best the DiamondDawgs in a 6-5, 11 inning thriller. If last season's playoff game and the last game played between these two teams is any indicator, a 0-0 tie, a dogfight is in store for the East Division first round.

Playing in the same division and seeing a team as frequently as Mohawk Valley and Albany see one another, Albany Coach Nick Davey says that familiarity is invaluable when it comes to knowing their tendencies and pitchers.

"It absolutely helps us," Davey said. "It's funny that you play a team so many times that you get to know who they are and what their pitchers are and what not because you see their pitchers over and over."

But this year's first round matchup has a little surprise in store.

"It's actually going to be a matchup where neither team has seen the other starter at all… It could be a real good game; we're assuming it to be a close game," he added.

He also said that he and his wife celebrated the birth of their new baby earlier this week and nicknamed it his "playoff baby."

For Mohawk Valley coach Blake Nation, he said an all-around team effort has been the reason why his team has made it to the postseason for the second consecutive season.

"I think we've done a good job of just playing our game," Nation said. "We mainly stick to a lot of hit and run, steals; we have a lot of speed on the team. We have a good combination of speed and power that puts us in a good position to win games. Defensively we've done a really good job this year of keeping our pitchers in games, especially [Colin] Hawk at shortstop; he's done a great job."

Nation also praised the defensive prowess of outfielder Jayson Sullivan and catcher Eric Strano. As far as team leaders, he said Colin Hawk has been a player the DiamondDawg players look up to both offensively and defensively.

And as far as what he wants his team to focus on come the first round, he simply wants them to continue playing as they have all season.

"Focus on sticking with our game," Nation said. "We have to focus on the first game, whether it be against Albany or Glens Falls, we have to focus on what we need to do to win and what we have been doing to win."

In the West Division, the Newark Pilots earned the No. 1 seed after winning their final game of the regular season while Elmira dropped their final game. The Pilots defeated Glens Falls by a score of 4-1 and the Pioneers dropped both games of a doubleheader with Mohawk Valley.

Newark and Elmira entered the final game of the season with the same record with the final day of games being the deciding factor on the No. 1 seed.

The Pilots have reached the playoffs every year the PGCBL has been in existence. They are led by Tanner Giesel, a Southeastern CC infielder, who has started in all 44 games and has two home runs, 32 RBI and holds a .329 batting average.

For the Pioneers, they will look to make another run into the Championship series where they fell in three games to the Mohawks. Last year, they made it to the championship as the No. 3 seed.

Elmira is led this season by T.J. Dixon, a freshman outfielder from Samford University, who has a .347 batting average in 44 games played. Bryson Hough, a junior righthanded pitcher from Bucknell, is the leader on the mound for the Pioneers, pitching to a 5-0 record in eight games started and leads the team in strikeouts with 41.

Elmira Head Coach Matt Burch said he wants his team focusing on winning one game at a time and when a player is called to step up, he expects them to do so.

The Watertown Rams enter the playoffs for the second consecutive season. Last year, the Rams fell at the hands of the Pioneers in the West Division Final and played in the PGCBL's longest playoff extra-inning game, a 7-6, 14 inning thriller.

The Rams are offensively led by Chris Gaetano, a freshman outfielder from Monmouth University, who started in 34 games this summer and holds a .271 batting average with one home-run and 20 RBI. On the mound, they will look towards Jake Sale, a righthander from Parkland College. Sale possesses a 5-0 record and has appeared in 21 games and holds a 2.45 ERA in 25 2/3 innings of work.

As the summer and regular season of the PGCBL draws to a close, the postseason fireworks for six teams are just beginning. In the matter of one week, there could be a three time PGCBL champion or someone new could grab the reigns.

It's baseball, anything can happen in the postseason.