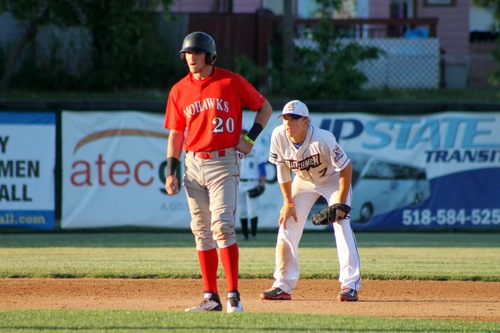 Pitcher of the Week (July 24-July 30) – Taylor Blatch (Amsterdam)
Player of the Week (July 24-July 30)- John Razzino (Amsterdam)
In the final set of weekly awards for the 2014 PGCBL season, Taylor Blatch of Amsterdam has been named Pitcher of the Week while John Razzino of Amsterdam has taken home Player of the Week honors.
Taylor Blatch became the second pitcher in PGCBL history to throw a no-hitter, coming at the expense of the Utica Brewers in Amsterdam's 7-0 win in game one of a doubleheader at Utica's Donovan Stadium. The right-hander struck out five batters and allowed six to reach base, one on an error in the fifth inning. The first no-hitter in the PGCBL history came on July 11, 2012 in Albany as Jesse Burratt no-hit the Albany Dutchmen. Blatch is now 5-1 on the season and lowered his ERA to 1.80. Opponents are hitting just .163 off the Florida State product. He has started seven games and recorded 37 strikeouts in 40 innings. At Florida State this season, Blatch appeared in 14 games, 12 being in relief. He went 1-0 with a 6.23 ERA. The right-hander held opponents to a .210 batting average. Prior to his freshman year at FSU, Blatch was drafted in the 27th round of the 2013 MLB Draft by the Minnesota Twins.
John Razzino has been named PGCBL Player of the Week for the week of July 24-July 30 after going 12-for-24 with two home runs and 11 RBIs. Razzino posted a .500 batting average and a .538 on-base percentage. He scored seven runs during the week and stole four bases. The Franklin Pierce product finished the season with a .370 batting average and a .449 on-base percentage. Razzino hit five home runs and drove in a team-leading 34 runs. At Franklin Pierce this year, Razzino hit .264 in 52 games and drove in 34 runs. He had an OBP of .335. This is Razzino's second PGCBL Player of the Week Award, as he was also named Player of the Week for Week Three.
For all the latest news, scores and updates, follow the PGCBL on Twitter, @PGCBLbaseball.