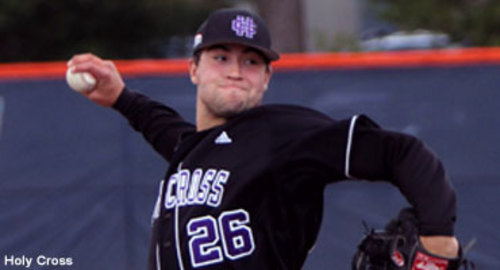 The Amsterdam Mohawks continued their dominance in the Perfect Game Collegiate Baseball League in 2014, winning their third consecutive league championship. The team also posted the best record (36-11) during the regular season – doing so after starting the summer with a 2-6 record – and were among a small handful of teams considered for Perfect Game's Summer Collegiate Team of the Year award.

Their success is reflected by the number of prospects listed among the league's best. Three of the top five prospects played for Amsterdam and nine of the top 20 overall as listed below.

The Newark Pilots claimed the West Division with a 27-19 record, and faced Amsterdam in the championship series, a re-match of the league's inaugural championship between the same two clubs in 2011.


Year Established: 2011
States Represented: New York
No. of Teams: 9 (10 in 2013)
Regular Season Champion (best overall record): Amsterdam Mohawks, 36-11
Post Season Champion: Amsterdam Mohawks
No. 1 Prospect, 2013: Mike Urbanski, rhp, Amsterdam Mohawks (Binghamton)
First 2013 Player Selected, 2014 Draft: Austin Fisher, ss, Glens Falls Golden Eagles (Kansas State; Indians/13th round)

Player of the Year: Josh Gardiner, 2b, Amsterdam Mohawks (Radford)
Pitcher of the Year: Jayson Yano, rhp, Newark Pilots (Stevens Institute of Technology, NJ)

BATTING LEADERS

Batting Average: Mike Carter, of, Adirondack Trail Blazers (.430)
Slugging Percentage: Mike Carter, of, Adirondack Trail Blazers (.593)
On-Base Average: Josh Gardiner, 2b, Amsterdam Mohawks (.543)
Home Runs: Mark Williams, 1b, Adirondack Trail Blazers (La Salle); Zach Collett, 1b, Mohawk Valley DiamondDawgs (New Haven) (6)
RBI: Tanner Giesel, ss, Newark Pilots (35)
Stolen Bases: John Razzino, of, Amsterdam Mohawks (23)

PITCHING LEADERS

Wins: Jayson Yano, rhp, Newark Pilots (Stevens Institute of Technology) (6)
ERA: Bryson Hough, rhp, Elmira Pioners (Bucknell) (1.02)
Saves: Jon Escobar, rhp, Watertown Rams (9)
Strikeouts: Mitch Sewald, rhp, Watertown Rams (49)

BEST TOOLS

Best Athlete: Cedric Mullins, of, Utica Brewers
Best Hitter: Matt Diorio, c, Watertown Rams
Best Power: Matt Diorio, c, Watertown Rams
Fastest Base Runner: John Razzino, of, Amsterdam Mohawks
Best Defensive Player: Colin Hawk, if, Mohawk Valley DiamondDawgs
Best Velocity: Jon Escobar, rhp, Watertown Rams
Best Breaking Ball: Ed Lewicki, rhp, Mohawk Valley DiamondDawgs
Best Command: Ryan Clark, rhp, Amsterdam Mohawks


TOP 20 PROSPECTS

1. Jon Escobar, rhp, Watertown Rams (Holy Cross/SO in 2015)
Escobar, coming off of his freshman season at Holy Cross, was a pleasant surprise this summer. His stuff backed up his statistical dominance serving as Watertown's closer this summer (2-0, 1.33 ERA, 9 saves, 39 strikeouts, 9 walks, 8 hits allowed in 20 1/3 innings), consistently working in the low-90s, peaking at 94 mph at the league's all-star game while touching as high as 96 in other games. Still working to improve the pitch, Escobar threw his hard-breaking curveball at 72-74 mph pitching primarily off of his fastball. He pitches aggressively, pounding the strike zone while also creating deception in his delivery. At 6-foot-1, 190-pounds, there's still plenty of future projection for Escobar to improve, as he profiles as a late-inning stopper.

2. Ryan Clark, rhp, Amsterdam Mohawks (UNC Greensboro/JR in 2015)
The first of several Amsterdam pitchers listed among the league's top prospects, Clark quickly passes the eye test at 6-foot-4, 215-pounds. Although his fastball typically sat at 88-90 mph, he routinely peaked at 91-92 and generates very heavy sinking life with advanced command while using his size well to generate downhill trajectory in his delivery. Clark's arm speed suggests more velocity could be on its way, and he maintained that arm speed well with a polished changeup and a late-biting low-70s curve. His velocity tailed off toward the end of the summer, but that wasn't surprising after throwing 93 innings in the spring for UNC Greensboro and another 35 for the Mohawks, going 3-0 in seven starts with a 2.31 ERA and 37-to-5 strikeout-to-walk ratio.

3. Mitch Sewald, rhp, Watertown Rams (LSU-Eunice/JR in 2015)
Sewald received strong support as the league's top arm and overall prospect. He has transferred to LSU-Eunice after being let go from LSU for off-the-field issues, and was named the No. 14 prospect in the Northwoods League last summer. Projection is defined by Sewald with a broad-shouldered and high-waisted 6-foot-6, 195-pound frame and improving fastball velocity. Sitting in the upper-80s last summer, Sewald threw in the 88-93 range, peaking at 94 mph, this past summer with natural, late sinking life. He continues to fine-tune his breaking ball and changeup, and should continue to build off of his success after posting a 2.89 ERA with 49 strikeouts and only 16 walks allowed in 53 innings for the Rams.

4. Taylor Blatch, rhp, Amsterdam Mohawks (Florida State/SO in 2015)
Armed with one of the best raw arms in the league this summer, Blatch routinely worked at 88-92 this summer, frequently peaking at 93 while changing hitters' eye levels. Command is a concern for the 5-foot-11, 160-pound righthander, as he walked 23 in 40 innings of work this summer, but he also allowed only 22 hits, a tribute to his pure stuff. That stuff includes an improving mid-70s curveball, and his athleticism and clean arm action allows him to repeat his delivery with the potential for increased fastball velocity as he continues to add strength and refine his overall game with increased experience at Florida State.

5. Zack Brown, rhp, Amsterdam Mohawks (Kentucky/SO in 2015)
Brown, like Sewald, received support for the league's top prospect, especially after he sat at 93-95 mph while touching 96 in his final start of the summer in the playoffs for the league champion Mohawks. For most of the summer he sat in the low-90s, with a breaking ball that flashed plus at times to go along with a changeup. Consistency is key for Brown as he struggles to repeat his delivery and find his release point at times, which leads to erratic command, but when those elements were in sync he was as dominant as any arm in the league.

6. Charles LeBlanc, ss, Watertown Rams (Pittsburgh/FR in 2015)
An imposing presence in the batter's box thanks to his 6-foot-4, 200-pound build, LeBlanc held his own in the league despite being an incoming freshman for Pitt. He hit .226 in 31 at-bats for the Rams this summer, but his strength, bat speed and arm strength were all evident despite limited looks. Athletic enough to handle shortstop for the time being, where he is expected to begin his college career defensively, third base is a better long-term home for him where his power potential and arm strength would be a natural fit.

7. Matt Diorio, c, Watertown Rams (UCF/SO in 2015)
A lower abdominal injury cut Diorio's summer short, who was enjoying an MVP type season for the Rams. He finished the summer by hitting .352 with eight extra-base hits in 88 at-bats, and also became the second player in the history of the league to hit for the cycle. All of the pieces are in place for Diorio to become an impact performer at the plate, with a refined approach and power to all fields as a lefthanded hitter, however, it remains to be seen whether he can stick behind the plate, although he does have a very good arm.

8. JaVon Shelby, 2b, Amsterdam Mohawks (Kentucky/SO in 2015)
Shelby certainly has a big league pedigree, as his father, John, has two World Series rings with the Orioles and Dodgers and is currently a member of the Milwaukee Brewers coaching staff. His brother, also John, played in 646 games at the minor league level, and his cousin is Josh Harrison, who played in the 2014 MLB All-Star Game as a member of the Pittsburgh Pirates. JaVon has similar big league upside, with quick-twitch actions and good speed. He hit .250 during his freshman year at Kentucky, and .239 this past summer, but more production, and power, are expected to come as he continues to fill out his 6-foot-2, 188-pound frame given his current hand and bat speed as well as his pitch recognition skills.

9. Cedric Mullins, of, Utica Brewers (Campbell/JR in 2015)
An undersized, switch-hitting outfielder, Mullins has slowly but surely started to come around to scouts by routinely making an impact at the plate, on the basepaths and defensively in center field. He was one of the top prospects eligible for the 2014 MLB Draft from the junior college ranks after hitting .417-7-33 with 27 stolen bases for Louisburg (N.C.) CC, and has transferred to Campbell for his junior year. Mullins hit .287 with 10 extra-base hits and 22 stolen bases this summer with a strong understanding of the strike zone and double-digit power potential at the next level. His speed – 6.63 60-yard dash at the league's all-star game – arm strength, routes and reads are also considered plus defensively.

10. Jack Gerstenmaier, 2b, Newark Pilots (Virginia/FR in 2015)
Similar to LeBlanc, Gertenmaier's time spent in the PGCBL was done so before he ever set foot on campus. Now at the University of Virginia, the Cavaliers may look for big things from Gerstenmaier after he hit .337 on the summer for Newark. He has solid tools across the board, including 6.59 60-yard dash speed and polished defensive tools on the infield. He employs a patient approach and a line drive stroke at the plate, with gap-to-gap power and enough strength to hit his fair share of home runs with the ability to pose a threat on the basepaths.

11. Ed Lewicki, rhp, Mohawk Valley DiamondDawgs (Siena/SR in 2015)
Lewicki's curveball received the most support for the league's best breaking ball, a late-biting mid-70s hammer curve that's a true swing-and-miss offering. He uses the pitch well to complement his upper-80s fastball that can peak at times at 90-91, and he also throws a 80 mph changeup giving him a solid three-pitch mix. At 6-foot-4, 185-pounds there is some projection left in his frame to add another tick or two to his fastball velocity.

12. Colin Hawk, 2b, Mohawk Valley DiamondDawgs (Cincinnati/JR in 2015)
A solid ballplayer across the board, Hawk received near universal praise as one of the league's top defensive players playing shortstop for Mohawk Valley. His arm profiles best at second base moving forward, but he positions himself well, moves fluidly to both sides and possesses soft, quick hands. Hawk also showed the ability to sting the ball to all fields, hitting .324 on the summer with gap power that led to 13 extra-base hits. While his running speed is average, it plays up due to his superior instincts and first-step quickness.

13. Marcus Carson, of, Amsterdam Mohawks (South Florida/RS-SO in 2015)
Carson is a potential five-tool athlete with good foot speed, bat speed and a patient and controlled approach at the plate. His speed allows him to cover plenty of ground in the outfield, and he hit .346 with 10 extra-base hits and 14 stolen bases on the summer. The biggest knock on Carson is his size, who at 5-foot-8, 165-pounds will need to continue to produce at the plate to be given a chance to succeed at the next level.

14. John Razzino, of, Amsterdam Mohawks (Franklin Pierce/SR in 2015)
Razzino's 6.4 60-yard dash time was the best of those that participated at the league's all-star game, and allowed him to lead the league in stolen bases with 23 (in 26 attempts). He offers an intriguing blend of power and speed, hitting .370-5-30 on the summer, although many noted that his swing is long and will need to be revamped at the next level to be effective as a pro. Razzino plays the game hard while showing good instincts in the outfield, and is likely to be a senior sign, possibly in the top 10 rounds, with another strong showing for Franklin Pierce.

15. Josh Gardiner, 2b, Amsterdam Mohawks (Radford/SR in 2015)
Named the league MVP by hitting .415 with 10 doubles, 29 RBI and 16 stolen bases, Gardiner received significant praise across the board for his approach to all facets of the game. Although he's only 5-foot-8, which limits his upside, he plays sounds defense at second base, runs the 60-yard dash in 6.5 seconds and sprays line drives to all parts of the field.

16. Thomas Hackimer, rhp, Amsterdam Mohawks (St. John's/JR in 2015)
Although the sidearming Hackimer doesn't have a lofty upside, with a lively low- to mid-80s fastball, his chances for success in professional baseball are higher given his role as a bullpen specialist. His frisbee slider gives him a legitimate and effective second weapon, with the ability to backdoor the pitch to lefthanded batters. He posted a 0.98 ERA in 17 relief appearances in which he struck out 44, walked 9 and only allowed 13 hits in 27 2/3 innings while playing an integral role for the league champion Mohawks.

17. Mike Carter, of, Adirondack Trial Blazers (Rutgers/SO in 2015)
A high energy yet smaller 5-foot-9, 170-pound outfielder, Carter led the league in batting with a .430 average thanks to advanced pitch recognition skills and a line drive approach. There's some question as to whether or not that success in the batter's box will continue against repeated, high level stuff, but he made the most of his time in the PGCBL by also hitting eight doubles and four home runs. A solid average runner, Carter also stole 19 bases and walked (22) more than he struck out (18) proving to be one of the league's toughest outs.

18. Sean Rackoski, rhp, Watertown Rams (Kansas/SO in 2015)
At 6-foot-7, 190-pounds to go along with long, loose levers, the sky is the limited for the Kansas sophomore. He uses his size well to pitch down on opposing hitters, allowing his upper-80s fastball that currently peaks at 91 mph to play up. Rackoski didn't see much time for the Jayhawks as a freshman, but that should change next spring after posting a 3.98 ERA with a 30-to-16 strikeout-to-walk ratio in 43 innings for the Rams. His slider is expected to improve with added experience, and he could also add more velocity to his fastball as he continues to fill out his long, lanky frame.

19. Josh McCarren, rhp, Amsterdam Mohawks (Wake Forest/SO in 2015)
Although McCarren didn't receive as much support as his Amsterdam pitching mates like Clark, Brown and Blatch for top prospect status, he too enjoyed a productive summer, pitching exclusively out of the Mohawks' bullpen. In 17 appearances he posted a 2.60 ERA and exhibited excellent command of his upper-80s fastball that frequently touched the low-90s, shown by his 30-to-4 strikeout-to-walk ratio in 27 2/3 innings. McCarren pitched in a similar role for the Demon Deacons in the spring as a freshman, receiving a similar amount of playing time as well, and should see an increased role as a sophomore, possibly as a weekend starter.

20. Roberto Suppa, rhp, Elmira Pioneers (Cornell/SR in 2015)
Although Suppa didn't have a good summer from a statistical standpoint, posting a 5.40 ERA while walking 31 in 31 2/3 innings of work, there's plenty of pro potential thanks to his size and stuff. At 6-foot-5, 205-pounds Suppa has a workhorse build with the ability to sit at 89-91 mph with his fastball, peaking at 93-94 early in games. His changeup is a polished pitch that he can throws for strikes and he also has a still-developing low-70s curveball. Throwing strikes and commanding his three-pitch repertoire are the keys to his success moving forward.
Perfect Game: http://www.perfectgame.org/Articles/View.aspx?article=10601