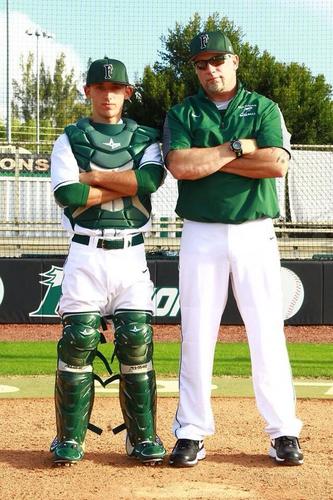 Glens Falls, NY
By: Seth Cooper (Glens Falls Dragons Baseball)
Miguel Presno considers himself the underdog.
When asked on Sunday if he's the "underdog," Presno laughed and said "Oh yeah definitely."
Miguel is a senior at Flanagan High School, as he looks to impress coaches and players this season in the Perfect Game Collegiate Baseball League. "It motivates me to succeed," he said.
Presno said he has the weight on his shoulders and the term underdog best describes him. The term according to Miguel is "I could be 5/8 and 145 pounds but behind the plate, I'm 6/2 and 220 pounds."
Coach Johnston Hobbs is very excited to have Presno as his back man this season. Their relationship on and off the field is different. "It's father son," Coach Hobbs said, "Kids like this is why I coach."
Presno has known Coach Hobbs for four years. "It's an honor Miguel told me, for him to take me under his wing it's amazing and I'm so thankful so that."
Presno spent last season with the formally known Glens Falls Golden Eagles training with the players and Hobbs. He could have stayed in South Florida and play travel ball, but instead he thought it was more important to get stronger and catch college level baseball while under the daily supervision of Coach Hobbs.
Miguel or "Migs" as the players and coaches would call him; Miguel would be up in lounge area in the press box studying the game. He would take batting practice at times but most of the time he would up their just soaking in the sport and how the league works and just learning.
"I take last season as a Christmas gift. It was awesome and for me to learn the sport even more. It's a learning curve and I'm very thankful for that," Presno said.
Miguel, a catcher who's is finishing his fourth season at Flanagan High School, batted .391 and started every game behind the dish for a team that Baseball America ranked #1 in nation for most of the last season.
This kid has a ton of potential coming up this season in the PGCBL. Miguel will be a very key part to the Dragons baseball club and a fan favorite for sure.
I asked Miguel if that puts a lot of pressure on you coming in as a freshman and being put right in as the starter behind the dish for Glens Falls this season. Miguel yet said again "Oh yeah definitely but it's part of the game".
Danny Oliveri also benefits being under Coach Hobbs' wing. Last season the freshman hit .252 for the Golden Eagles. Oliveri was in the starting lineup 35 times, led off in all but two games last season. The Triton Native had 123 at-bats and was top five in all but slugging and on base percentage.
The speedster scored sixteen times and was in the top three in walks on the team and was number one in stolen bases last season with a total of eleven. Oliveri had a total of 87 putouts in right field last season. "I'm pumped to come back to Glens Falls," he said. "I loved the small town atmosphere it had, I loved the fans, and the kids especially they were great after a heartbreaking loss. My ultimate goals Is to give back to that community and win it all and win the championship because they were so loyal".
In all Glens Falls should be seeing seven returning players including Oliveri and Presno, even though he didn't play last season as a catcher.