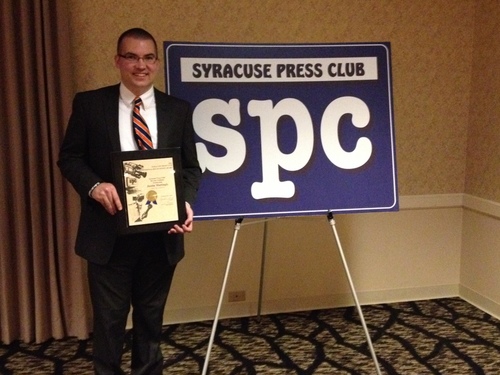 PGCBL Assistant to the President Justin Mattingly has been awarded the 2015 DeVesty-Williams Scholarship, given out by the Syracuse Press Club.
The scholarship, which is given to one, full-time undergraduate student who is studying print, broadcast or digital journalism at a college/university in the Syracuse Press Club service area, was awarded at the annual Syracuse Press Club dinner on May 2. Mattingly, a resident of Philadelphia, New York, is currently a sophomore studying newspaper and online journalism and political science at Syracuse University.
"We are elated that Justin has been recognized by the Syracuse Press Club. We expect that this will be one of many awards and accolades he receives for his journalistic endeavors," said PGCBL President Jeff Kunion. "The entire PGCBL family sends our congratulations."
The scholarship was given out based on academic achievement, involvement in extracurricular activities and work experience, a personal philosophy statement, media samples and professional references.
Mattingly is currently the news editor of The Daily Orange, the independent student newspaper of Syracuse, New York, among other extracurricular activities.
"I am humbled to be the recipient of the DeVesty-Williams Scholarship. I take great pride in being a journalist and am honored to have this prestigious recognition," Mattingly said. "Much of this recognition is owed to my work with the PGCBL. I'm grateful to be able to work with the league and further enhance my skills."
Mattingly is currently in his second year with the league.
|
Back to index...