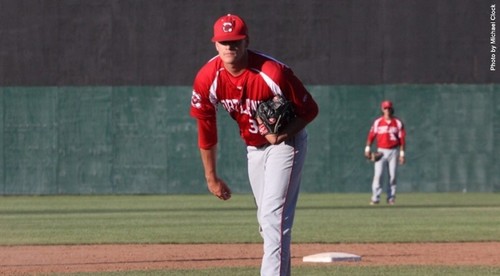 Less than 24 hours after throwing two scoreless innings to deliver a dramatic, come-from-behind SUNY Cortland victory over Amherst College in an NCAA Division III New York Regional tournament game Thursday night, junior relief pitcher Tyler Brien planned to be fulfilling a military obligation.
Brien, a crucial piece of the team's bullpen all season, was scheduled to report to Fort Drum, near Watertown, N.Y., Friday afternoon to fulfill his monthly commitment to the U.S. Army National Guard. Brien will pitch for the Mohawk Valley DiamondDawgs of the PGCBL this summer, just as he did last. He had a 1.80 ERA for the DiamondDawgs last summer.
The six-foot-five right-hander was the beneficiary of a rare military exemption waiver earlier this week. The NCAA Division III Baseball National Committee allowed SUNY Cortland to include Brien on its 25-man playoff roster for the regional's opening two days Wednesday and Thursday at Falcon Park in Auburn, N.Y., and then replace him for the remainder of the tournament.
"It's a unique situation for sure," said head coach Joe Brown, who has guided the nationally top-ranked Red Dragons to a 38-4 mark and last week was named State University of New York Athletic Conference (SUNYAC) Coach of the Year. "We were nervous because we didn't know how it would turn out.
"But no doubt, it was the right thing to let him play."
Brien approached his head coach a week before regional action and made him aware of the potential conflict between his National Guard training and NCAA tournament action. Once a month during the school year, Brien is required to travel to Fort Drum. Those monthly trips forced him to miss two weekend series during the regular season. Under normal circumstances, the only acceptable exemption is academic work. Final exams, however, wrapped up at the College this week.
Brown immediately notified a regional representative, who forwarded SUNY Cortland's request to submit two 25-man rosters — one with Brien and one with a replacement player — to the national committee. The team learned Tuesday night that the waiver was granted.
"I was pumped," said Brien, an Ilion, N.Y., native who joined the National Guard more than two years ago as part of a six-year commitment. "And then after last night's win, we were even more jacked up."
The Red Dragons won their opening game of the regional Wednesday afternoon against Oberlin College thanks to a three-run rally in the bottom of the eighth inning. On Thursday, they trailed Amherst 5-0 in the top of the seventh inning and then 5-2 when Brien came in to pitch with a runner on base in the bottom of the eighth.
He kept Amherst off the scoreboard. SUNY Cortland erupted for five runs in the top of the ninth and he closed the door with two strikeouts in the bottom of the inning. When asked whether he was more nervous about his relief pitching duties or his upcoming military training at Fort Drum, Brien didn't balk.
"Pitching in that type of game is tougher, no question," he said. "The whole team's relying on you to minimize the damage."
But Brien, who last summer trained at Fort Benning, Ga., was quick to draw similarities between the two experiences.
"You're only as strong as the guy next to you (in the military)," he said. "It works like that in baseball too."
The top-seeded Red Dragons still have work to do to reach their third Division III World Series in four years. SUNY Cortland, which is hosting the eight-team, double elimination regional tournament in Auburn, is 2-0 so far, but needs two more wins to secure a World Series berth. Next up is No. 6 seed RPI at 4:30 p.m. Friday.
"The goal is to keep this thing rolling," said Brien, who pitched in last year's World Series in Appleton, Wis. "I don't want (Thursday) to be my last appearance of the year."
Brown agreed that the team will keep chipping away at a bigger goal. But the head coach also took a minute to savor a special moment in the dugout Thursday night.
"The guys congratulated him in the dugout after the game," Brown said. "And then everyone says, 'Alright, now go serve your country.'"
Please note that some changes were made to the SUNY Cortland press release.