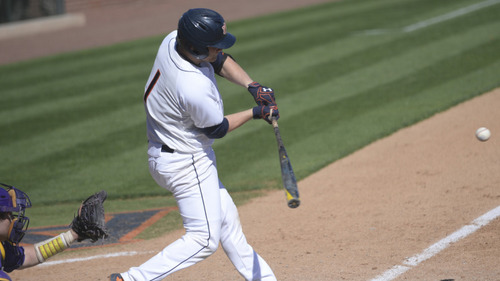 It was another strong week for PGCBL alumni and we're back with another alumni roundup.
This week we'll be looking at five of the top performers from PGCBL alumni. Here's this week's alumni roundup:
1. Slayton Vaughan, Albany 2015
Vaughan slugged two home runs, including a grand slam, on Saturday for Stephen F. Austin. On Sunday, the infielder had a walk-off walk and added a sacrifice fly earlier in the game. On the season, Vaughan is hitting .319 and has 19 RBIs for SFA.
Last summer with the Dutchmen, Vaughan drove in 12 runs and clubbed eight extra base hits.
2. Charles Leblanc, Watertown 2014
In a week where he tallied 12 RBIs, Leblanc was named ACC Player of the Week. Leblanc went 9-for-13 (.692) on the weekend with nine RBIs. One of Pittsburgh's wins this week came against Clemson. In that game, Leblanc went 4-for-5 with six RBIs.
On the season, Leblanc is hitting .436. He has compiled six doubles, one triple and one home run. He ranks third in the ACC in batting average and fifth in hits. In the summer of 2014.
3. Blake Logan, Amsterdam 2014
Logan's four-RBI game on Saturday led Auburn to a win over No. 14 LSU. The Tigers blew the game open against LSU in the fourth inning as Logan hit a three-run double. Logan's fourth RBI of the game came in the seventh inning as he hit an RBI double to left field.
Through 26 games played, Logan maintains a .352 batting average with one hum run and 26 RBIs, good for the second-most on Auburn. In 33 games for Amsterdam in 2014, Logan hit .255 with 18 RBIs. He was the primary backstop on a team that eventually went on to win the PGCBL Championship.
4. Gavin Wallace, Albany 2015
In need of a win against Rider, Gavin Wallace picked up his teammates and to earn the win in the Stags' 13-1 win in game two of a doubleheader. Wallace tossed a career-best eight innings while allowing just one run to go with six strikeouts. He didn't walk a batter and is now 2-2 on the season.
"He was really good," Fairfield Head Coach Bill Currier said. "It was great for him to get over that hump in the fifth inning. He actually went out and threw better in the seventh and eighth."
In six appearances for Albany in 2015, Wallace won two games and struck out 18 batters.
5. Kevin Biondic, Newark Pilots 2015
Biondic got at least one hit in all five of Maryland's games over the past week and had been a force in the Terrapin offense this season. Last Wednesday, Biondic went 3-for-4 with an RBI and a double. He also doubled on Saturday and Sunday.
On the season, Biondic leads Maryland with a .355 batting average and has clubbed four homer runs. His on-base percentage of .464 also leads the team.
Bonus:
Villanova won the men's basketball national championship on Monday night with an exciting buzzer-beater win. The Wildcats are led by Head Coach Jay Wright, whose son Taylor Wright, played for the Mohawk Valley DiamondDawgs in 2013.
The PGCBL is affiliated with Perfect Game, the largest independent scouting service in the country. Last year, more than 1,400 professional players had either worn the uniform of a PGCBL team or participated in a Perfect Game event.

For more information about the PGCBL, visit www.pgcbl.com and follow the league on Twitter, @PGCBLbaseball.