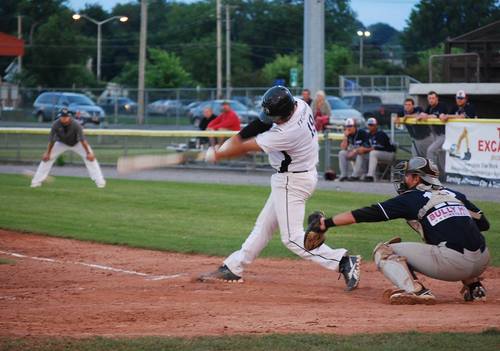 The 2016 Major League Baseball First-Year Player Draft was a historic one for the PGCBL.
Forty PGCBL alumni were drafted in the draft, including two in the first round and one in lottery round A — the most players the league's had taken in the first round in its six-year history.
Ian Anderson, a 2016 Amsterdam Mohawks signee, was drafted No. 3 overall during the first round of the draft. The 18-year-old recently completed his senior season at Shenendehowa High School and will now take his talents to the Atlanta Braves organization.
"It's exciting," Anderson said on MLB Network after he was selected. "You never know going into the season where you're going to go."
Matthew Thaiss, a member of the 2013 Watertown Rams, was selected No. 16 overall. Thaiss heard his name called with the selection by the Los Angeles Angels and will go to the Angels after a stellar career at the University of Virginia.
"It taught me how to play away from home, and go up against top competition day in and day out," Thaiss said of the PGCBL last year. "I believe the PGCBL is the best summer league in the country, and I wouldn't change my decision to play there for anything."
In lottery round A, Anfernee Grier, a 2014 Amsterdam Mohawks signee, was selected by the Arizona Diamondbacks with pick No. 39 overall.
In 2015, Kyle Holder, a former Glens Falls Golden Eagle, was the first player in PGCBL history to be taken in the first round.
"This year's draft highlights the annual improvement in the level of competition in the PGCBL," said PGCBL President Jeff Kunion. "PGCBL fans are truly getting a taste of tomorrow's major leaguers when they come to one of our games."
Two alumni were taken in the fourth round with Thomas Hackimer (Amsterdam 2014) going to Minnesota and Charles Leblanc (Watertown 2014) being taken by the Rangers. Two of Hackimer's Amsterdam teammates were taken back-to-back in the fifth round with Zack Brown going to Milwaukee and JaVon Shelby going to Oakland.
Eight of the first 11 alumni draft picks were former Mohawks (13 total). Albany, Watertown and Glens Falls each had four players drafted. Mohawk Valley had three players taken. Oneonta had five players taken.
For a complete list of alumni who were drafted, go here.
The PGCBL is affiliated with Perfect Game, the largest independent scouting service in the country. This year more than 1,400 professional players will have worn the uniform or participated in a Perfect Game event.
For all the latest scores and updates, follow the league on Twitter, @PGCBLBaseball.