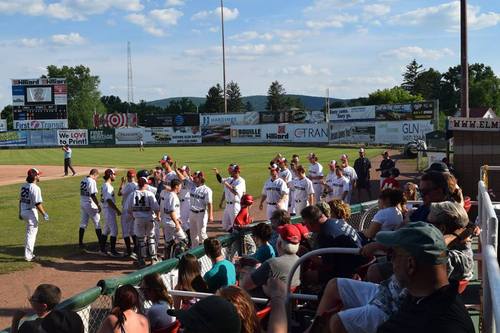 CEDAR RAPIDS, Iowa – To understand the rabid baseball fandom of the people of Elmira, New York, you have to take a bit of a history lesson.

A dirt track horse racing stadium on the banks of the Chemung River stood as the main attraction for the residents of Elmira as far back as the 1800s. It wasn't until the 1880s when four bags were placed in the shape of a diamond in the center of the track that the town's focus started to shift away from horses and more towards cowhides.

Elmira knows baseball. It's in its blood, and has been since the Elmira Colonels played their first game in 1885 as part of the New York State League.

The Elmira Pioneers — as the team is called now as part of the Perfect Game Collegiate Baseball League — first came about in the year 1900 as a founding member of a newly formed New York State League. The club bounced around from league to league for much of the 19th and 20th century, taking on names such as the Gladiators, Red Jackets, Red Wings, Red Sox, and Marlins.

As the name on the front of the jersey and the logo on the cap changed, the Elmira team built a permanent home in 1939 and named it Dunn Field, after a donor in the community. With a beautiful art deco entrance in the front of the stadium and seating for over 4,000 people, Dunn Field is the home of the Elmira Pioneers to this day, serving as a constant reminder of where the game once was, and how it remains today.