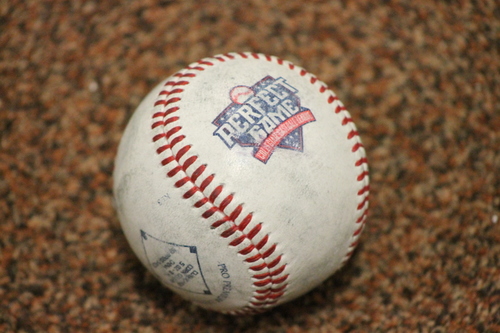 Christ Conley of the Jamestown Jammers and Nolan Freeman of the Utica Blue Sox have been named the Player and Pitcher of the Week, respectively.
During the week starting June 20 and ending June 26, Conley hit .400 over the past seven days with a home run, eight RBIs and two doubles. The Canisius product also walked eight times and was hit by three pitches while stealing a base. During the week, Conley had a .607 on-base percentage and a 1.34 OPS.
On the season, Conley is hitting .333 with a 1.143 OPS and a .587 on-base percentage. He's walked 19 times, the second-most in the league, and has struck out just five times. At Canisius this season, Conley appeared in 49 games and posted a .258 batting average. He had 15 RBIs as well.
Nolan Freeman becomes the first repeat winner of the Pitcher of the Week award this year.
During the week, Freeman picked up two wins as he allowed just three runs in 13 innings of work. On Monday, Freeman tossed six scoreless innings and beat Mohawk Valley. On Sunday, the Mercyhurst North East product struck out four over seven innings of solid work to beat Glens Falls.
Freeman has lowered his ERA to 1.73 on the season and has a WHIP of 1.19. Opponents are hitting just .242 off him. He was named Pitcher of the Week in Week One.
During the college season, Freeman tossed a team-leading 60 innings for the Saints. He averaged 10.20 strikeouts per nine innings. Freeman won eight games during the collegiate season as he appeared in 16 games, starting 10.
For all the latest news, scores and updates, follow the PGCBL on Twitter, @PGCBLbaseball.