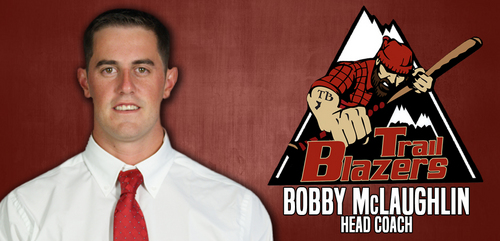 BOONVILLE, N.Y. – The Adirondack Trail Blazers have announced the return of former player and current Coker College assistant coach, Bobby McLaughlin, as the team's new head coach for the 2017 Perfect Game Collegiate Baseball League (PGCBL) season.
McLaughlin returns to Boonville for the first time as a coach after playing for the Trail Blazers during the 2012 summer season. That year, he batted .316 with 32 hits, 22 runs scored and 17 RBIs to help lead Adirondack – then part of the New York Collegiate Baseball League – to a postseason berth. He played his final three collegiate seasons at Division II Alderson Broaddus University, located in Philippi, W.Va. There he recorded a career batting average of .344 with 96 RBIs, 87 runs, 32 doubles, and six home runs for the Battlers.
"My return back to Boonville is pretty surreal," McLaughlin said. "I received a call from Ray DiBrango and Bobby Miller, who I have worked with for a few years now getting players to Boonville. I thought this would be the same type of call until Ray asked if I would want to be the head coach. I was honored that they chose me; I loved playing in Adirondack. It is a small town but the fans were electric."
Following a successful collegiate career, the Schenectady, N.Y., native signed with the Taos Blizzard, an independent team in the Pecos League, where he spent the 2013 season.
Prior to joining the coaching staff at Coker, a Division II institution located in Hartsville, S.C., McLaughlin spent one season as an assistant at his alma mater before joining Midwestern Division III powerhouse, Adrian College. In his first season with the Bulldogs in 2015, the team captured a Michigan Intercollegiate Athletic Association (MIAA) tournament title and earned a berth in the NCAA Regionals.
In related news, the Blazer Baseball Group has added Matthew Snyder to its front office as the Director of Business Operations for the Trail Blazers. A 2002 graduate of York College of Pennsylvania who also received a J.D. from Stetson University College of Law, Snyder joins the organization with an extensive background in the sports industry. He recently served as the Director of Business Administration for the independent Empire League, following stints as a Corporate Partnerships Account Executive for the Camden Riversharks and Director of Business Operations for the Austin Bruins of the North American Hockey League (NAHL).