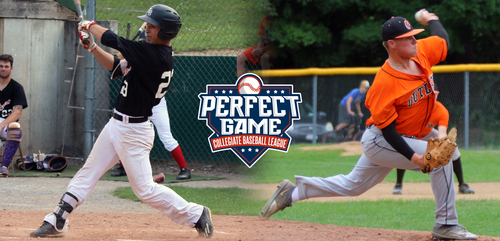 Adirondack outfielder Joe Simone (Rider) was named Player of the Week and Oneonta left-hander Jason Wasilnak (St. John Fisher) was crowned Pitcher of the Week for Week 7 of the 2017 Perfect Game Collegiate Baseball League (PGCBL) season, as announced by the league office on Monday afternoon.
Simone pieced together an eye-popping week at the plate for the Trail Blazers. In six games from July 17-23, the rising sophomore from Rider University slashed .522/.538/.957. His batting average ranked third among qualified players with double-digit at-bats, while his 12 hits, four doubles and two home runs all fell just one shy of the league lead over the past week. In addition, his slugging percentage, OPS (1.495) and RBI total (14) paced all PGCBLers with at least 15 plate appearances.
The 5-foot-11 outfielder from Wayne, N.J., posted at least one hit in five of his six appearances, including three multi-hit outings. He also drove in multiple runs on four occasions, with his first such game coming on July 19, when he launched a three-run homer against Mohawk Valley. In a doubleheader against Geneva on July 21, Simone compiled four hits in eight at-bats, led by a 3-for-4 showing with a two-run double and solo jack in the matinee. The Adirondack outfielder capped off the week with a video game-like performance in Sunday's 12-11 extra-inning victory over Oneonta, as he finished a perfect 5-for-5 with two doubles and six RBIs. He punctuated the evening by registering the walk-off hit with a two-run single in the bottom of the 10th inning.
Simone is the first Trail Blazer to garner a weekly award from the PGCBL this season and the first Player of the Week honoree to come from Boonville, N.Y., since Alex Simone (La Roche) won the award in Week 5 of the 2014 season.
Wasilnak began his summer pitching out of the Oneonta bullpen, but after his stellar start on July 21 against Onondaga, he'll likely finish the season in the rotation. That night, the 6-foot southpaw twirled a complete-game gem and doused the Flames en route to a 5-2 victory at Damaschke Field. He scattered seven hits and five walks across 9.0 innings and struck out a season-high eight batters on 140 pitches.
The Endicott, N.Y., native's second start of the season was 4.1 innings longer than his first, while he more than doubled his previous single-game high for strikeouts. Furthermore, Wasilnak's eight punch outs were tied for the most by a pitcher in a single game last week, and of the five complete games recorded in the league from July 17-23, his was the only one of the nine-inning variety.
The rising junior from St. John Fisher College is the second Oneonta hurler to win the PGCBL Pitcher of the Week award this summer, as fellow Outlaw Jake Hershman (Wofford) was recognized during Week 2 for the 8.0 shutout innings he tossed on June 14, which ironically also came against the Flames.
2017 PGCBL Weekly Award Winners
Player of the Week
Week 1: Christ Conley (Canisius) – Jamestown Jammers
Week 2: Mikey Arman (Kenyon) – Geneva Red Wings
Week 3: T.J. Collett (Kentucky), Liam Wilson (Canisius) – Amsterdam Mohawks
Week 4: Collin Stack (UMBC) – Jamestown Jammers
Week 5: Devon Garcia (Ohio) – Utica Blue Sox
Week 6: Marshall Gilbert (John A. Logan) – Elmira Pioneers
Week 7: Joe Simone (Rider) – Adirondack Trail Blazers
Pitcher of the Week
Week 1: Brian Reed (RIT) – Geneva Red Wings
Week 2: Jake Hershman (Wofford) – Oneonta Outlaws
Week 3: Houston Roth (Ole Miss) – Elmira Pioneers
Week 4: Brandon Reitz (Florida State) – Amsterdam Mohawks
Week 5: Grant Donahue (Virginia) – Elmira Pioneers
Week 6: Jonathan McKinney (Southern Union State C.C.) – Mohawk Valley DiamondDawgs
Week 7: Jason Wasilnak (St. John Fisher) – Oneonta Outlaws
About the PGCBL
The Perfect Game Collegiate Baseball League is a 13-team summer collegiate baseball league in Upstate New York. Since its inaugural season in 2011, the PGCBL – which annually draws talent from some of the best NCAA, NAIA, and junior college programs – has quickly evolved into the premier wood bat league in the state of New York, while becoming one of the most widely respected summer leagues in the country. The PGCBL is affiliated with Perfect Game, the nation's largest independent amateur scouting bureau. Last year, there were more than 1,500 players in the pros who either wore the uniform of a PGCBL team or participated in a Perfect Game event. For more information, please visit www.pgcbl.com.