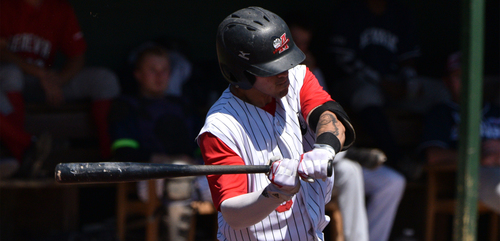 By Tiffany Seal, Perfect Game USA | Perfect Game Story Link
With the Perfect Game Collegiate Baseball League (PGCBL) season wrapping up, it's time to take a look back at the top performers and prospects from the 2017 summer. This year, the PGCBL adopted a popular format to showcase not only the top performers in the league but also the top prospects, with the addition of a Prospect Game.
Hosted at Amsterdam's historic Shuttleworth Park, the 2017 All-Star and Prospect Games were a hit, with 1,759 fans in attendance. The day was packed with festivities and top talent, beginning with the Prospect Game, followed with a skills contest, home run derby and ending with the seventh-annual All-Star Game.
Amsterdam once again showed an eye for recruiting young talent, with three of the day's top prospects hailing from the Mohawks. Two of those were Eric Rivera (FAU) and Matt Gorski (Indiana), who showed promise and intriguing tools in the Prospect Game, with Rivera taking home the MVP in a 12-9 win for the East.
"It was definitely fun to go out and perform the way I did," said Rivera. "I was seeing the ball well and put some good swings on balls, and luckily it worked out that day."
Rivera splits his time between the outfield and third, and earned the MVP honors by going 3-for-4, just a triple shy of the cycle.
"I think the [Prospect Game] worked well," said Rivera. "I think they made a good decision with the Prospect Game because there are some kids that didn't quite get off to the start they really wanted to, but have some talent. I think it was good for everybody to have two games."
He continued to turn heads by flashing five-tool ability while running a 6.5 in the 60-yard dash and showing plus arm strength.
"It was great to be out there and getting to play with everyone around the league," said Rivera. "I love playing this game, and that day was special. You get to play and meet new people from other teams, it was a great day."
The West Park, Florida native went into his freshman year at FAU as the 500th-ranked player in the 2016 class.
Rivera is a long-time Perfect Game event attendee. He put himself on the radar by winning both a WWBA tournament and a BCS with Elite Squad, while being a six-time All-Tournament team selection and a two-time PG/Rawlings Preseason High School All-American. He began showing potential upside going into his senior year at a PG National Showcase, where he ran a 6.88 in the 60-yard dash and threw 90 from the outfield.
His abilities have translated to the next level in the form of a .256 average in his freshman season and ending with Conference USA All-Freshman honors.
"The transition [from college to summer ball] is a little different with the wood bats," said Rivera. "But at the end of the day it's all the same game, you have to hit the ball, you have to pitch the ball, field the ball and throw the ball."
Another freshman standout during the Prospect Game doing all of the above was Indiana's Matt Gorski.
The 6-foot-4 center fielder stood out during the skills contest by showing off three true tools, with a plus arm, bat, and speed—running a 6.5 60-yard dash. Gorski finished his freshman season for the Hoosiers batting .288 with 21 RBIs and flashing potential power by hitting four home runs, four doubles and a triple, all while leading the team with 15 stolen bases.
Prior to Indiana, Gorski came out of the 2016 class as the No. 288 overall prospect, No. 53 second baseman and was named to the All-Tournament team for both the 16u and 17u WWBA National Championship tournaments while in high school.
Others standouts from the Prospect Game include position players: Skyler Valentine (Texas State), Allbry Major (Xavier), Dustin Skelton (Mississippi State), Russ Olive (UMass-Lowell) and Phoenix Hernandez (Southern New Hampshire).
Both outfielders Valentine and Major displayed improvement in speed during the skills contest, compared to their high school showcases. Ranked in the top 1,000 of the 2014 class, Valentine's 7.05 60-yard dash at the 2012 Sunshine South Showcase, shows the marked improvement to his 6.58 60-yard dash this summer.
The Switch-hitting Major showed power from both sides of the plate while running a 6.7 60-yard dash—culminating into an overall athletic profile.
Behind the plate, Skelton displayed plus defense and the ability to generate power from the right side. Drafted by the Blue Jays in the 36th round of the 2016 MLB Draft, he saw limited playing time at Mississippi State as a freshman where he hit .206. He is already showing promise going into his sophomore season, by hitting .300 on the summer for the Mohawks.
Olive makes for an intriguing profile as a 6-foot-4 first baseman/left fielder possessing a left-handed power bat that plays to all parts of the field. Prior to his freshman season at UMass, Olive was the No. 3 lefthanded pitcher in Massachusetts out of the 2015 class.
Wrapping up the top position players from the Prospect roster is middle infielder Hernandez, who showed good hands but left room for improvement in his arm strength. He received limited playing time in his freshman season but made it count by hitting .308 in 13 at-bats.
On the mound, Prospect participants, Brandon Reitz (Florida State), Thomas Lane (Boston College), Roel Garcia (Rice) and rising freshman Tyler Mattison (Bryant) all sat in the upper-80s to lower-90s, with Garcia touching 94 mph with an 84 mph slider. Righthander Lane also possessed a plus slider at 83 with solid depth.
As the day's events gave way to the evening's All-Star Game, it turned into another dominating performance by the East, in what would become a 10-8 win and another year of bragging rights for a sixth-straight Midsummer Classic.
Key contributors to the roster included Glens Falls' Anthony Vaglica (LIU Post), who won MVP honors after a 2-for-3 night with three RBIs, and Luke Pettersen (Minnesota) who went 2-for-2 with a double.
The East struck first by way of Taylor Olmstead's (Southern N.H.) solo home run, the first of five in the game. But only for the West to answer back with a run in the second on a RBI groundout by Christ Conley—which was an early indicator of a back-and-forth battle throughout the night.
Amsterdam's Will Holland continued his success throughout the summer with a solid showing in both the All-Star Game and skills contest, as he helped propel the East to an early but short-lived lead in the fourth with a solo home run. The Auburn shortstop spent his freshman year displaying his athleticism and range for the Tigers by playing short, second and third.
He also has an uncanny ability to show up in big spots by way of home runs on some of college baseball's most impressive platforms, as he hit a three-run home run during the Tallahassee Regional, leading to what was the difference in a 7-4 win against UCF.
"It's always exciting hitting home runs, especially in big situations," said Holland. "When I get older and my game improves, I think more homeruns and extra base hits will come. But as of now, I am just trying to hit the ball hard. If I find gaps or the ball leaves the park, that's always good."
Holland has been a name scouts have noted as one of the top prospects in the league. He affirmed some of those observations in the skills contest, where he threw 93 mph across the infield and ran a 6.7 60-yard dash.
"I definitely learned a lot up here, it was cool getting acclimated to here and the people," said Holland. "It's good coming up here and getting more at-bats, as our coach says, 'sharpen your ax,' just get better with your strengths and improve on your weaknesses and get more reps."
Holland hit .209 during his 2017 spring, where he split time at short and filled in gaps in the infield throughout the season. Going into his sophomore year, the PGCBL has been a way to bridge the gap between being a part-time piece to a potential starter in the coming 2018 season.
"Just being around the game more and learning more about yourself just helps [with improving my game]. I think as long as you are around the game and playing the game, you are just going to get better," said Holland. "I think I have improved on learning the game more. Learning more about pitch sequences and trying different approaches as I go into my at-bats."
More intriguing prospects from the All-Star roster included shortstop Brett Rodriguez (Wofford) who ran a 6.6 60-yard dash and threw 94 mph across infield to the win skills contest, where he showed off both strength and athleticism. Rodriguez came to the PGCBL after hitting .293 in his freshman season with 99 at-bats for the Terriers.
Outfielder Anthony Gonnella (South Florida/Manatee CC) showed a good arm and was runner-up in the home run derby, where he displayed what he could with his 6-foot-4 frame and power-lefty bat, by hitting 10 home runs in the first round and hitting his un-timed two-point ball over the scoreboard to tie the contest.
Although it was an offensively-dominant night with both team's bats coming out swinging, there were several arms that showed promise, including Elmira's Houston Roth (Ole Miss) and Josh Smith (Kentucky), as well as Amsterdam's Joe LaSorsa (St. John's).
Roth emerged as one of the top pitching prospects in the league, sitting 91-93 mph with his fastball, while complimenting it with a true slider. The rising sophomore led the Ole Miss pitching staff with a 1.57 ERA and ended the season 3-0 with 18 relief appearances, 41 strikeouts and only eight walks in 28 2/3 innings.
Fellow SEC teammate and lefty Josh Smith showed a clean delivery in his outing, with the projectability in his 6-foot-5, lanky build to throw even harder than his current 89-92 mph fastball.
Rounding out just some of the top talent on the day was Amsterdam's Joe LaSorsa. The lefthander touched 90 mph and has the ability to throw three pitches for strikes. Similar to Smith, LaSorsa's 6-foot-5 frame leaves room for a higher ceiling with his velocity. LaSorsa finished his freshman season with a 7-1 record and a 2.34 ERA in 21 relief appearances, racking up 39 strikeouts and 14 walks in 50 innings for St. John's.
With a full day of baseball wrapping up with a well-matched battle between the best of the East and West, the Midsummer Classic at Shuttleworth hosted the most talent-filled summer showcase to-date for the league, with the addition of the inaugural Prospect Game. Hometown fans in Amsterdam were not only able to enjoy the festivities at their home field, but also cheer on a league-high eight Amsterdam All-Stars in the process.
"There were a lot of good players in the All-Star Game," said Holland. "It's always awesome at our home field. There were a lot of people out there, and it's fun playing in front of them because they love watching you play and compete."