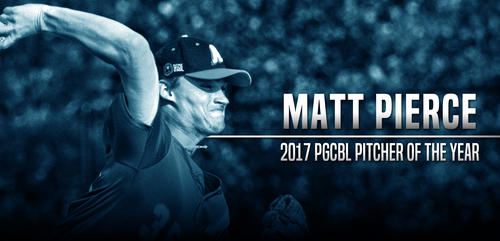 The Perfect Game Collegiate Baseball League (PGCBL) is pleased today to announce Albany Dutchmen right-hander Matt Pierce (Siena) as the recipient of the 2017 PGCBL Pitcher of the Year award, as voted on by the league's head coaches.
Pierce helped the Dutchmen (33-16) qualify for the postseason as the second seed out of the East Division by leading the league with the lowest earned-run average among qualified pitchers and breaking the single-season wins record, a mark held by several previous Pitcher of the Year honorees.
"It feels rewarding to be named Pitcher of the Year," Pierce said. "It feels great to see all of the hard work put in over these past months of summer baseball pay off. I couldn't have done it without my team, not only are they great ball players but all around great people as well. Also for my coaching staff, they had my back throughout the entire summer."
"I've known Matt for at least five or six years now, from coaching his teams or giving him lessons, and I cannot be happier for a kid that's worked as hard as he has," said Albany head coach Nick Davey. "He earned this award, it wasn't given to him. You couldn't pick a better person to be the first Dutchmen player in the franchise's history to win an end-of-year award."
The 6-foot-2, 234-pound righty posted an 8-1 record with a 1.71 ERA and 26 strikeouts in 42.0 innings of work on the mound this summer. He not only led the PGCBL in both wins and ERA, but his eight victories established a new single-season record, one more than the likes of Joe DeSarro (Herkimer/SNHU), Zach Logue (Kentucky) and Chandler Shepherd (Kentucky), who each garnered Pitcher of the Year accolades during their time in the PGCBL. Although he wasn't a strikeout pitcher like each of the aforementioned hurlers, Pierce's 1.17 WHIP was tied for the third-lowest in the league in 2017.
Pierce's improbable run to the top pitching honor began out of the Albany bullpen. As a freshman at Siena College this spring he was used exclusively as a reliever, and as a result, he began the month of June with four consecutive relief outings before earning his first start.
"He started immediately out of the bullpen for us because I'm a firm believer that you don't win games in the first five innings, so we like to have depth and quality arms coming out of the back end of our bullpen," Davey explained.
After back-to-back hitless relief appearances, Davey gave Pierce a spot start on June 20 in a home game against Glens Falls. The Schenectady, N.Y., native twirled a gem with 6.0 shutout innings and two strikeouts without issuing a walk, helping the Dutchmen roll to a 10-0 victory.
"My goal this summer was to work towards gaining a role as a starting pitcher," Pierce said. "I didn't expect that to be given to me, so I looked to be as efficient as possible during my relief outings to hopefully transfer that efficiency into a starting outing if given the opportunity."
Following a successful audition, Pierce solidified his spot in the rotation for the second half of the season with Albany fighting to secure a home playoff game.
"Once we put in him into the starting lineup, we couldn't take him out of it," Davey added.
In his final four outings – all starts – Pierce was a perfect 4-0. He held Oneonta scoreless and struck out a season-high-tying six in 6.0 innings on July 6 to begin the stellar stretch. In Amsterdam on July 14, he held the red-hot Mohawks offense to just one run in 6.0 innings, guiding Albany to a 10-4 victory over the East Division regular-season champs. In his final appearance on July 30, the rising sophomore struck out six and earned his record-breaking eighth win of the season in a lopsided 14-2 decision on the road against Onondaga.
As a starter Pierce was masterful; he finished the 2017 campaign with an unblemished 5-0 record and a 1.55 ERA in five starts.
According to Pierce, his time with the Albany Dutchmen organization was "a great summer baseball experience."
"Playing in this league was a huge help because of the competition we faced," he said. "Facing great players from different schools really kept me busy each day and each outing, as tried to improve as a pitcher."
PGCBL Pitcher of the Year Award Winners
2017: Matt Pierce (Albany) – Siena
2016: Joe DeSarro (Mohawk Valley) – Herkimer/SNHU; Brennen Price (Victor) – Canisius
2015: Zach Logue (Amsterdam) – Kentucky; Kyano Cummings (Elmira) – Siena
2014: Jayson Yano (Newark) – Stevens Institute of Technology
2013: Eann Cox (Cooperstown) – Black Hawk College
2012: Chandler Shepherd (Amsterdam) – Kentucky
2011: Dominick Ruscitti (Newark) – Kutztown
About the PGCBL
The Perfect Game Collegiate Baseball League is a 13-team summer collegiate baseball league in Upstate New York. Since its inaugural season in 2011, the PGCBL – which annually draws talent from some of the best NCAA, NAIA, and junior college programs – has quickly evolved into the premier wood bat league in the state of New York, while becoming one of the most widely respected summer leagues in the country. The PGCBL is affiliated with Perfect Game, the nation's largest independent amateur scouting bureau. Last year, there were more than 1,500 players in the pros who either wore the uniform of a PGCBL team or participated in a Perfect Game event. For more information, please visit www.pgcbl.com.