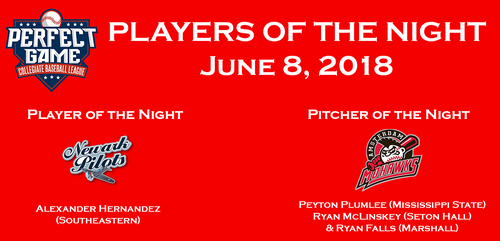 Throughout the season, the Perfect Game Collegiate Baseball League will be recognizing a Player and Pitcher of the Night on each game day.
Player of the Night: Alexander Hernandez, Newark (Southeastern)
Hernandez, who plays his college baseball for the NAIA National Champions at Southeastern, led the Pilots to their first win of the season on Friday night. The catcher drove in five runs on three hits, helping Newark to a 12-2 victory over the Geneva Red Wings. Hernandez's signature moment came in the bottom of the third inning, when he cleared the bases on a three-run double to give the Pilots a 4-0 lead. Hernandez has reached safely in all five games so far this season for Newark.
Pitchers of the Night: Amsterdam Pitching Staff
The rotation of Peyton Plumlee (Mississippi State), Ryan McLinskey (Seton Hall) and Ryan Falls (Marshall) combined for a two-hitter against Albany on Friday night, leading the Mohawks to a 2-0 victory. Plumlee struck out nine hitters over his five innings on the mound, allowing the only two hits of the game. McLinskey came in before the sixth inning and tossed three hitless innings to pick up the victory. Falls finished it out with two strikeouts in the top of the ninth to complete the 15 strikeout shutout performance.
Stay tuned to PGCBL.com throughout the season for further presentations of the Player and Pitcher of the Night awards.