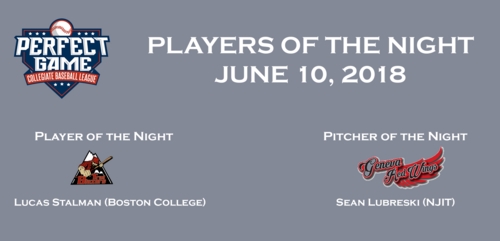 Throughout the season, the Perfect Game Collegiate Baseball League will be recognizing a Player and Pitcher of the Night on each game day.
Player of the Night: Lucas Stalman, Adirondack (Boston College)
The Adirondack Trail Blazers earned their first victory of the 2018 season, thanks in no small part to the play of Lucas Stalman. The Boston College Eagle was one of four Trail Blazers to record two hits, and drove in a team-high two runs in Adirondack's 9-3 victory over Utica. Stalman's biggest hit of the night came in the top of the ninth, when the shortstop belted a two-run home run as part of a five-run ninth inning. Stalman has recorded a hit and a run scored in each of his first two games in an Adirondack uniform.
Pitcher of the Night: Sean Lubreski, Geneva (NJIT)
For the second time this season, Sean Lubreski tossed eight dominant innings to lead the Geneva Red Wings to a victory. In Sunday night's win over Elmira, the NJIT Highlander struck out eight hitters in eight scoreless frames, and did not walk a batter. He allowed just four hits, and earned his second win in a 4-0 effort over the Pioneers. In 16 innings this season, Lubreski has struck out 12 hitters with only nine hits allowed, and has yet to allow a run.
Stay tuned to PGCBL.com throughout the season for further presentations of the Player and Pitcher of the Night awards.