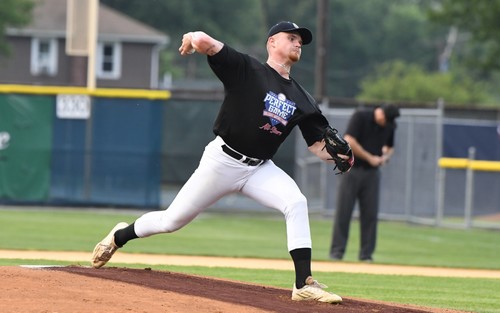 UTICA, N.Y.- The Perfect Game Collegiate Baseball League is pleased to announce the selection of Lane Miller (Indiana State) as the 2019 PGCBL Pitcher of the Year. Miller pitched this summer for the Saugerties Stallions, and becomes the first player in franchise history to earn one of the PGCBL's top awards.
Miller was the ace of staff for the Stallions, who earned their second trip to the PGCBL Postseason. In nine appearances on the season, the righthander went 3-1 with a 2.13 earned run average. The Indiana State Sycamore struck out 42 hitters in his 42.1 innings, and allowed just eleven walks. Opposing hitters posted a meager .176 batting average against him, and his WHIP was under one at 0.92.
Only once during the 2019 regular season did Miller allow more than two earned runs in an appearance. Three times - June 2 against Glens Falls, June 11 against Glens Falls, and June 28 against Oneonta - the righthander did not allow an earned run in at least four innings of work. He also struck out five or more batters in five of his nine appearances on the mound. He also appeared twice out of the bullpen, including a save earned against the league champion Amsterdam Mohawks on July 26.
His signature appearance of the season came on June 28 at Cantine Field against the Oneonta Outlaws. That night, Miller tossed a nine-inning complete game, allowing just one unearned run on two hits in a 2-1 victory for the Stallions. 12 of the 27 outs recorded by Miller were via strikeout, while no Oneonta hitters reached base via a walk.
For his efforts on the mound, Miller was awarded the start for the East All-Stars at the 2019 PGCBL All-Star Game, which was played at his home confines of Cantine Field. Miller was the leading votegetter among starting pitchers for both the All-Star Game and the All-PGCBL team, and was subsequently named a First Team All-PGCBL selection.
Miller said sitting out the 2019 season due to transferring to Indiana State allowed him to prepare himself for a dominant summer.
"I think all the preparation I did this spring [helped]…The fact that I took the time off, I took advantage of it and worked out every single day, preparing my body for when I came back," he said to Perfect Game before the All-Star Game. "I threw every single day, threw lots of bullpens. Got in the groove of finding the strike zone, commanding more pitches, and I think that entire six-month period before I came out here for summer ball really helped prepare me for the success I've had."
Throughout this week, the PGCBL will be unveiling its yearly awards, continuing with today's announcement of the PGCBL Pitcher of the Year. The week's schedule is as follows:
Monday: PGCBL All-League Team
Tuesday: PGCBL Coach of the Year
Thursday: PGCBL Player of the Year
PGCBL PITCHER OF THE YEAR WINNERS:
2011- Dominick Ruscitti, Newark
2012- Chandler Shepherd, Amsterdam
2013- Eann Cox, Cooperstown
2014- Jayson Yano, Newark
2015- Zach Logue, Amsterdam & Kyano Cummings, Elmira
2016- Joe DeSarro, Mohawk Valley & Brennen Smith, Victor
2017- Matt Pierce, Albany
2018- Mason Hazelwood, Elmira
2019- Lane Miller, Saugerties