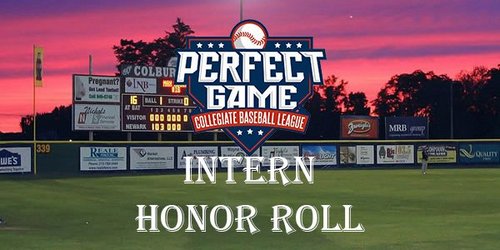 Every season, dozens of college students from around the nation converge on upstate New York to work for the 12 franchises of the PGCBL. These students fulfill every possible function that keeps a baseball team running, such as ticket sales, concessions, merchandise sales, on field promotions, broadcasting, and social media. This summer, the PGCBL is pleased to recognize a small number of its teams interns', as nominated by each franchise.
Albany Dutchmen- Ashley Tremblay completed her master's degree in Sports Management from Indiana State University through her internship with the Dutchmen. Tremblay was instrumental in coordinating the Dutchmen's Baseball Buddies' program, concessions logistics and operations, and coordinating intern communications, among many other responsibilities. Dutchmen Vice President and General Manager Jason Brinkman described Tremblay as a leader among her peers and an absolute pleasure to work with on a daily basis.
Amsterdam Mohawks- Brad Klein (Syracuse) served as the broadcaster for the 2019 PGCBL Champions. Klein set up Amsterdam's entire video operation and managed everything from ads to graphics. Mohawks President and General Manager Brian Spagnola stated "He has great voice quality and really understands the game, and his hours of prep work are noticable when listening to a game. Brad will go very far in broadcasting and is perhaps one of the better broadcasters ever in the league."
Geneva Red Wings- Jake Perry (St. John Fisher) was described as the "go-to guy" for the Red Wings staff by owner Bob Ohmann. He handled all that was asked of him by Geneva management, including stats, merchandise, game day prepararion, PA announcing, and did so without complaint. Ohmann stated that Perry "always had a smile and was a great pleasure to be around"
Mohawk Valley DiamondDawgs- Nicholas Darling (Siena) was selected by the Mohawk Valley organization for his initiative with the team. Owner Travis Heiser stated "What made Nick so special is how he completely took control of the responsibility of his job. He consistently took the initiative to help improve our organization. Whenever Nick saw a need, he did not wait for me to provide guidance; instead he would create a solution."
Newark Pilots- Duncan Bastedo (St. John Fisher) served as the Assistant General Manager for the Pilots, and served in several different facets of the organization. He helped with all game day operations from helping manage the press box to set up and tear down of the field. General Manager Casey MacClaren stated "Duncan was a large factor in the success of the Pilots this season and we appreciate all of the hard work he put into our organization."
Oneonta Outlaws- Jamie Wagner was selected to be highlighted by the Outlaw organization. Wagner was an unconventional intern- she actually had been in retail for 13 years before she realized what she really wanted to do (work for the NHL). Since then she has been working hard attending conferences all over the country and taking every opportunity to get her foot in the door of the sports world. Assistant General Manager Zach King stated "Jamie came to work everyday eager to learn and demonstrated a strong work ethic early on. A crucial member of our team, Jamie was always willing to help us in the front office no matter the task, she did a great job all summer."
Saugerties Stallions- Jon Gross (Penn State) finished his second year with the Stallions, and served not only as Saugerties' play by play broadcaster, but was in charge of oversight of their entire communications team. Saugerties managment described Gross' broadcasts as "not only the best in the PGCBL, but second to none in the entire country."
Watertown Rapids- Antoinette Gress (Alfred State) was a full-time intern this summer who moved to Watertown for the internship. She managed the Rapids' community events, team meals, group area set up, the ticket office, and much more.
The listed students are only a small selection of the dozens of interns that have called a PGCBL franchise home this summer. The PGCBL wishes to thank all of its interns, not only during the 2019 season, but all those that have come through any PGCBL team during the nine years of operation.