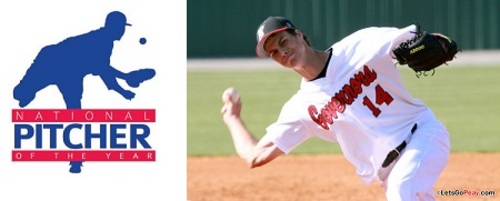 Austin Peay State University senior Tyler Rogers (Mohawk Valley 2012) has been named to the initial watch list for the 2013 National Pitcher of the Year Award sponsored by Diamond Sports. The initial watch list, released by the College Baseball Hall of Fame, features 41 NCAA Division I pitchers from 15 conferences. Rogers was one of two Ohio Valley Conference pitchers to make the list. The full listing can be found here.

Tyler Rogers is the closer for the 26-10 Governors. He is currently tied for first in the nation with 12 saves. Rogers is one of just 10 pitchers in NCAA Division I baseball with at least 10 saves. Through 22 appearances, the senior is 5-1 with a 2.59 earned run average. He has 24 strikeouts in 24.1 innings pitched. Opponents against the APSU closer are batting .179.

The 6-foot-5 reliever has not allowed an earned run in 20 of 22 appearances. He opened the 2013 season with 10 straight scoreless appearances and did not yield an earned run through his first 15 games. Through two seasons at Austin Peay, Rogers has accrued a school record 24 saves. He needs just one more save this season to break his own school record of 12 which was set last season. The Littleton, Colo., native is four saves shy of breaking the Ohio Valley Conference's record for saves in a season.

The National Pitcher of the Year Award will be presented at College Baseball's Night of Champions on June 30, 2013.

For more information on the Pitcher of the Year Award or the College Baseball Hall of Fame's Night of Champions, visit http://www.collegebaseballhall.org.